PRESS/REVIEWS
GUESTBOOK REVIEWS Please add your own testimonial/review to the guestbook or contact me with any questions! :)
---
ARTICLES/INTERVIEWS
---
CHICAGO JAZZ MAGAZINE (MIKE JEFFERS) (MARCH 2023) - Interview - Around Town: Creating Music with Meaning & Connection featuring guest Lara Driscoll
WDCB JAZZ RADIO 90.9 (LESLIE KEROS) - Interview
SUBURB TALK (EILEEN DADAY) (JAN 2023) - Performing in Women's Jazz Fest a Dream Come True for this Suburban Native
TEXTURA (RON SCHEPPER) (DEC 2021) Top Jazz Albums of 2021- Artist Picks
NO I DO NOT PLAY PIANO (CELINE PETERSON) (DEC 2021) Top Jazz Albums of 2021
TEXTURA (RON SCHEPPER) (DEC 2021) Top Jazz Albums of 2021
KMUW (CHRIS HEIM) (MARCH 2021) Jazz Women Feature
CHICAGO JAZZ MAGAZINE (HRAYR ATTARIAN) (FEB 2021)
"Lara Driscoll and Chris White's intimate debut, Firm Roots, draws inspiration from the rich tradition of jazz piano. A mix of standards and originals, this is a thematically unified set that delights with its spontaneity and lyricism. This husband-and-wife team got the opportunity to record it live on high-end instruments in Grand Piano Haus's showroom. The venue's acoustics are well reflected in the warmth and clarity of the album's sound. 
Pianist Horace Silver's classic "Song for My Father" gets a soulful interpretation as Driscoll and White overlap their embellished phrases with creativity and elegance. The two artists build a sophisticated improvisation with their complementary and contrasting lines that cascade off each other, interweave, and intersect. 
These types of captivating textures are a hallmark of this imaginative performance. The pair's "One Foot First," for example, is made up of crystalline refrains that change and morph into dynamic and exciting patterns. The inventive harmonies over subtly percussive vamps, and the duo's virtuosity, are reminiscent of the pianists of the early half of the last century. 
Similarly, another one of the couple's compositions, "Jalophony,'' showcases the pianists' technical prowess and brilliant artistry. The thrilling agility with which White and Driscoll let loose fast and fluid sonic cascades, peppered with bluesy tones, harks back to Harlem stride with a thrilling modern twist. 
The title track is one of pianist Cedar Walton's many ingenious standards. Here, it features a playful and effervescent dialogue. With shimmering exchanges, the two musicians deconstruct the piece with deference and charm. Their unique approach is simultaneously passionate and suave, once again demonstrating the distinctive synergy of their individual styles. The result is as much Walton's tune as it is Driscoll and White's. 
With Firm Roots, the Chicago-based pianists have created a truly enchanting work that, in a way, pays tribute to the legacy of past innovators of the genre. Both their own contributions and their singular reading of several well-known gems bear the indelible marks of their talent and the allure of a shared musical vision. Driscoll and White's mastery and finesse lend an appealing and accessible quality to their superb debut album."
What's New on WDCB Listener Supported Jazz & Blues Radio (PAUL ABELLA) (JAN 2021)
"Chris White and Lara Driscoll are both celebrated pianists in Chicago and fantastic composers, as well as being husband and wife. With Firm Roots, their instrumental duo, they put their talents together to produce Firm Roots, the album, where they shine a spotlight on their playing, composing and arranging skills. The musicianship and writing is great; I especially like "One Foot First", "Tu M'as Convaincu" and the lovely reading of "Willow Weep for Me". The originals really stand out, and I hope we hear more from the Firm Roots duo as this is quite an enjoyable album."
NEON JAZZ RADIO INTERVIEW (JAN 2021)
TEXTURA (RON SCHEPPER) (JAN 2021)
"At the risk of extrapolating too much, the duo performances by pianists Chris White and Lara Driscoll on Firm Roots suggest the married couple's Chicago home must be an exceptionally harmonious one. On this debut set, the two complement one another magnificently, each completing and extending the other's phrases while at the same allowing room for individual expression. A major part of the listening pleasure afforded by the release stems from luxuriating in the cozy exchange of ideas between them. 
After meeting as students at the University of Illinois at Urbana-Champaign and forging individual careers, they've now chosen to play together as Firm Roots Duo, the name inspired by the Cedar Walton composition with which the album begins and which even served as the couple's recessional at their wedding ceremony. It wasn't simply that they liked the tune: roots, while invisible, provide the foundation for the growing tree and as such are a powerful metaphor for not only a strong marriage but a healthy working relationship. 
In addition to the satisfying dialogue aspect of the performances, the album's distinguished in other ways. The set-list is strong, with White and Driscoll balancing four originals with well-chosen covers, and the sound produced by the two Bösendorfers (recorded live at the Grand Piano Haus showroom in Skokie, Illinois) is itself a treat for the ears. And with the sound mix positioning Driscoll on the right and White the left for most of the record, the listener's able to easily monitor how fluidly the two execute. As one solos, the other provides a stabilizing ground until a deft switch-off occurs and the roles reverse. 
The groundwork's beautifully laid by Walton's opener, his melodious and buoyant piece exuding charm at every moment. The pianists' sensibilities not only align with each other but with Walton as the two take to the tune's infectious swing with obvious joy. White and Driscoll uphold the jazz artist's propensity for transmuting popular songs into material of pronounced emotional bearing, in this case "That's What Friends Are For," written by Burt Bacharach and Carole Bayer Sager in 1986. An album highlight, the setting opens stirringly in rubato mode, the treatment all the better at accentuating the song's yearning melodies. Their rendering is so affecting, you just might forget the familiar vocal version that was a hit decades ago. As winning are their enticing treatments of Horace Silver's "Song For My Father" and Ann Ronell's "Willow Weep For Me," both given sultry, soulful readings (a smattering of stride even working its way into the latter). 
The duo's originals are anything but secondary. The breezy swing of their Brazilian-inspired "Sábado de Manhã" is irresistible, and much the same could be said of the blues-inflected workouts "One Foot First" and "Jalophony." They're at their lyrical best for "I.P.T.," a graceful ballad that not only alludes to "Monk's Mood" but also evokes the legend's style in its intro ("I.P.T." also, interestingly, was the duo's first original and performed by them at their wedding reception). 
Before listening to the recording, I'll confess my thoughts drifted to The Fabulous Baker Boys, the 1989 film starring the Bridges brothers as struggling piano partners whose popularity soars when they bring singer Susie Diamond aboard. But in contrast to that film's storyline, Firm Roots shows White and Driscoll are in no need of a third member. The playing on this superb and oft-eloquent debut is at such a consistently high level, listening attention never strays."
APPLE PLAYLISTS- PURE JAZZ (JAN 2021)
DOWNBEAT MAGAZINE (ED ENRIGHT) (JAN 2021)
"Our connections sustain us during the most difficult of times. That's what makes the release of Firm Roots, a duo project from Chicago-based pianists Chris White and Lara Driscoll, so very appropriate. Roots keep us grounded and nourish our spirits, making them one of the most vital connections of all. White and Driscoll have made it their mission to lay down roots together—not only in their day-to-day lives as a happily married couple but also in the simpatico music they make on this brilliant new album.
Performing on Conservatory Series Bösendorfers, White and Driscoll recorded Firm Roots at Grand Piano Haus in Skokie, Illinois, a classy showroom located close to home that's known for its inventory of high-end instruments. The album opens with the Cedar Walton-penned title track, a tricky tune with a deceptively catchy melody that rings through loud and clear. "Sábado De Manhã," an original composition that, like many of the tunes here, the pianists wrote together, is distinguished by a graceful yet prominent melodic line that breezes along over a light, mutually conjured samba groove; the song reflects the couple's shared interest in Brazilian music. "One Foot First" takes White and Driscoll out of their comfort zones as co-composers as they plunge into the deeper ends of harmony, meter and song form. "Jalophony" is another challenging original that brings out the best in both players: Driscoll opens with an ostinato 3/4 figure while White lays down a 4/4 bass line, establishing an underlying tension and a sense of perpetual motion; they inevitably land on a big "1" together, as the meters come into alignment for the song's head and solo sections. Driscoll, who's heard in the right channel of the stereo field throughout most of the album, toys with her lines and teases out phrases as she develops her improvisations, worrying the blue notes that lurk at the heart of this minor-key adventure. White, usually on the left side, crafts more aggressive lines that tend to weave inside and outside the harmony.
Other highlights include the waltzy "I.P.T." (which the couple performed together at their wedding reception), the intimate "Tu M'as Convaincu" and the album's closer, a bluesy take on the standard "Willow Weep For Me" that has the pianists engaging in playful back-and-forth that reveals just how deeply connected they are."
SKETCHES IN BLUE (SOCAL JAZZ & KARIM YENGSEP) (JAN, 2021)
THE JAZZ SESSION (JASON CRANE) (DEC 2020)
JAZZ QUAD (LEONID AUSKERN) (JAN 2021)
Обложка дебютного альбома этого дуэта представляет собой визуализированную метафору его названия: Firm Roots – «Крепкие корни». У Лары Дрисколл и Криса Уайта действительно крепкие джазовые корни. Лара родилась и выросла в Чикаго, Крис родом из Торонто, но, преодолев Великие Озера, в Чикаго оказался и он. Дрисколл и Уайт вместе учились в Университете Иллинойса, а сегодня они вместе идут по жизни не только в творческом, но и в личном плане. Они не только исполняют вместе музыку, но и сочиняют тоже.

Программу дебютного альбома из девяти треков составили четыре кавера и пять их собственных композиций, среди которых особое место принадлежит пьесе I.P.T., которую они, все также вместе, исполняли на собственной свадьбе. Для записи Firm Roots им повезло найти два концертных рояля Bösendorfer в Grand Piano Haus в Скоки, Иллинойс. В стартовой пьесе Седара Уолтона, которая и дала название, как альбому, так и дуэту, вы будете слышать Лару из левой колонки, а Криса – из правой. Во всех остальных композициях они поменяются местами. Из прочих каверов отмечу классическую пьесу Хорэса Сильвера Song for My Father, а также финальный трек – блюзовый шедевр Энн Ронелл Willow Weep for Me. Дуэт отдал дань и модному бразильскому джазу композицией Sábado De Manhã, но для меня фаворитом альбома стала другая их композиция – Jalophony.

Фортепьянные дуэты я слушаю не часто, и сейчас с большим удовольствием отмечал динамичность исполнения, хороший свинг и частое использование рубато. Лара и Крис - настоящие импровизаторы, тонко чувствующие друг друга, так что каждая пьеса альбома приобретает в их исполнении особенную окраску. Крепкие корни дуэта – это неразрывная связь дуэта с джазовой традицией при постоянном поиске своих, присущих только им решений, которыми и наполнен Firm Roots.https://jazzquad.ru/index.pl?act=PRODUCT&id=5795
SHEPARD EXPRESS (MORTON SHIABOTNIK) (DEC 2020)
A piano duo is a rare bird in today's music world and this Illinois partnership is one of the few that come to mind. Their no frills album was recorded live at Skokie's Grand Piano Haus, capturing a set of melodic jazz originals and a pocketful of songs that served as guideposts for pianists Lara Driscoll and Chris White: Horace Silver's "Song for My Father," the standard "Willow Weep for Me," Burt Bacharach's "That's What Friends are For" and the Cedar Walton composition that gave the duo their name.
WOVEN DREAMS:
JAZZ LIFE (TAKEHIKO "TAK" TOKIWA) (JUNE 2020)
DOWNBEAT MAGAZINE (SUZANNE LORGE) (MAY 2020)
ALL ABOUT JAZZ (JORDAN PENNEY) (MAY, 2020)
NEON JAZZ RADIO INTERVIEW (MAY 2020)
THE BIG TAKEOVER (MICHAEL TOLAND) (MAY 2020)
APPLE PLAYLISTS- PURE JAZZ (APRIL 2020)
APPLE PLAYLISTS- PIANO BAR (APRIL 2020)
ALL ABOUT JAZZ (GENO THAKARA) (APRIL 2020)
ALL MUSIC (MATT COLLAR) (APRIL 2020)
TEXTURA (APRIL 2020)
CD HOT LIST (MAY 2020)
LUCID CULTURE (APRIL 2020)
A BROAD SPECTRUM Women's History Month Playlist (MARY CONKLIN) (MARCH 2020)
MERCURY NEWS (JIM HARRINGTON) (MARCH 2020)
WGLT'S SOUND IDEAS (JON NORTON) (MARCH 2020)
JAZZ WEEKLY (GEORGE HARRIS) MARCH 2020)
CHICAGO JAZZ MAGAZINE (HRAYR ATTARIAN) (MARCH 2020)
CULTURE JAZZ and JAZZ 'IN LYON (YVES DORISON) (FEB 2020)
WHOLE NOTE (RAUL DE GAMA) (FEB 2020)
SMILE POLITELY (BENJAMIN HOLBROOK) (FEB 2020)
NEWS GAZETTE (MARY SCHENK) (FEB 2020)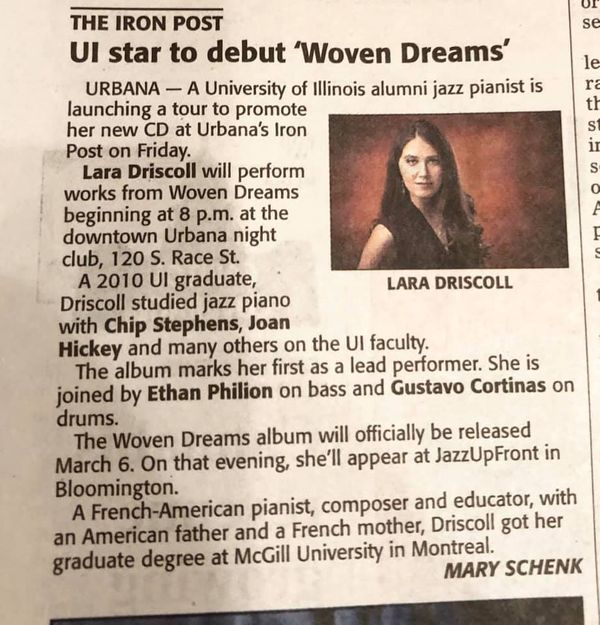 Published in The News Gazette Urbana, IL Tues, 02/26/2020 | Mary Schenk
Pianist Lara Driscoll: A Jazz Person You Should Know!
Chicago Jazz Magazine
October 31, 2016
Lara Driscoll, a French-American pianist and composer from Chicago is currently on tour in Canada with her trio but she still calls Chicago her home. Let's get to know how she got interested in music, where she studied, her musical concepts and what she has coming up!..." (continue reading interview)
---
Talented Female Players Put Their Own Spin on the Music
The Waterloo Chronicle Nov 2, 2016
The Jazz Room
"The Grand River Jazz Society presents two concerts this weekend featuring a fine Bill Evans influenced piano trio..." (see article)
---
Coco's Jazz Gig of the Week
Published on Sortie Jazz Nights Montreal, QC CAN, Aug 14, 2016
Coco - coconette@gmail.com
Coco Jazz host at 100,1 CKVL FM

"Pianist Lara Driscoll and her trio, Thursday, Aug. 18th at Résonance! Young and talented pianist Lara Driscoll is back in town!
The jazz pianist and composer is back to present her compositions and turn us on with her captivating style and uncluttered finesse. After her Masters in Jazz Studies at McGill University with the late Jan Jarczyk, pianist Lara Driscoll is back home in Chicago.
Lara is a versatile artist with a passion for expressing herself thru music. While in Montréal, she played at the Montreal Jazz Fest, recorded an album of compositions in trio, taught jazz piano, theory and history at McGill University. Since then Lara has joined the Music Faculty of the Harold Washington College (Chicago City College) and the Chicago Loyola University where she teaches jazz piano, world music and human sciences.
She has many other projects in the works and confided with me ; « This fall I'll be launching a complete album of my compositions with my trio 
Rémi-Jean LeBlanc and Dave Laing ». Furthermore the trio was invited to present the compositions of the pianist at the Jazz Éducation Network in Dallas, Texas.
The melodic lines of her compositions are fluid and mesmerizing. Lara Driscoll's jazz is fresh and sophisticated, with a dash of nostalgia in her arrangements that reminds us of the great pianists of the sixties.
The young pianist will be playing some of her original compositions as well a few jazz standards rich in improvisation, highlighting a great Montreal
rhythm section.
Lara Driscoll, piano/compositions
Rémi-Jean LeBlanc, bass
Dave Laing, drums
A night of great jazz by a together and happenin' trio!"
Lara Driscoll Trio
Thursday Aug. 18th, 9pm
Résonance
5175A Ave. du Parc    
---
Look ahead: Top Picks from Melissa Merli for the Week Ahead
Published in The News Gazette Urbana, IL Sun, 07/10/2016 | Melissa Merli
The keys to a great performance
"I was impressed by how much pianist Lara Driscoll has improved since graduating in 2010 from the UI Jazz Studies Program. As a freshman, she received the John Garvey Scholarship, given to promising, dedicated jazz students. That she is! Since then, she's obtained a master's at McGill, been teaching at Chicago universities and playing in Chicago. She plays at 8 p.m. Thursday at The Iron Post with Larry Gray and Joel Spencer."
---
That's Entertainment: Spotlighting events around the area
Published in The News Gazette Sun, 07/10/2016 | Melissa Merli
UI grad to play at Iron Post
"Pianist Lara Driscoll, a graduate of the UI Jazz Studies program, will return here to perform at 8 p.m. Thursday at The Iron Post with UI music faculty members Larry Gray on bass and Joel Spencer on drums.
Driscoll, also a composer, moved to Chicago after completing her master's degree in jazz performance at McGill University in Montreal, where she performed at the Montreal Jazz Festival, recorded an album of her original trio compositions and taught at McGill as a lecturer of jazz piano, theory and history.
She's now on the music faculty at Harold Washington College (Chicago City College) and Loyola University Chicago, where she teaches courses in piano, jazz, world music and humanities."
---
Album review:
Let Me Love You: Nancy Lane
By: Susan Frances AXS Contributor Nov 23, 2015
 
Vocalist Nancy Lane shows an instinct for jazz that's kindred to such singers as Nina Simone, Sarah Vaughan, and Carmen Rae. Her new release Let Me Love You is a compilation of jazz standards that Lane covers to an iridescent gleam. An avid torch carrier of cabaret-kindled blues, Lane's inflections and nuances caress the melodies and bring out a vivid luster in the tracks.

Mike De Masi's hypnotic bass pulls coursing through the title track frame Lane's vocals elegantly while Lara Driscoll's keys add lesions of warm textures to "I Can't Believe that You're in Love with Me." The taut drumming by Dave Laing in "We're Together" has a bongo feel with samba overtones, which changes to a bopping canter in "Every Time I'm with You." The smooth curves of Lane's inflections imprinted along "Tout Ce Que Veut Lola" are accented by De Masi's grazing bass as the torchlight aura of "Cry Me a River" is embellished by the succor sounding chords of Kenny Bibace's guitar.

The shuffling strides of Driscoll's keys in " Everything I've Got Belongs to You" has a Gershwin-esque touch, and the bossa nova-tilt of the rhythm section anchoring "All of You" swathes Cole Porter's tune in a Latin-enriched sheath. The leisurely stroll of Lane's vocals along "You Took Advantage of Me" infuses a cheerful glint in lyrics that express inconsolable sorrow to the audience. Her interpretation shines hope on a dismal condition. The spinning drumbeats of "What Is This Thing Called Love" are twined in tight bass pulls which turn soft and plush in the balladry verses of "Just Say I Love Him" as Driscoll's keys articulate arousing interludes.

Let Me Love You is Lane's debut solo release, launching her as a jazz vocalist. Her interpretation of classic jazz numbers displays a versatility that places her in the ranks of notable cabaret singers who graced the stages of Cafe Society and the Cotton Club. She keeps the songs true to their original form while wrapping her vocals around each one and embracing the spirit in which they were made.
---
Album Review:
ALL.ABOUT.JAZZ
Nancy Lane: Let Me Love You (2015)
By GEANNINE REID,
Published: November 14, 2015 
http://www.allaboutjazz.com/let-me-love-you-nancy-lane-self-produced-review-by-geannine-reid.php

Nancy Lane's vocal quality looms large in the crowded world of jazz vocalists, and with her recording, Let Me Love You, her melodic delivery will attest that she belongs to a small subset within the field.

Lane is accompanied by a talented core of musicians that perfectly support her formidable skills to deliver a melody. Lara Driscoll is on piano, Kenny Bibace is on the guitar, Mike De Masi plays the bass and Dave Laing is on drums to complete the musical core of the project. With the addition of François D' Amours on tenor saxophone on tracks: "I Can't Believe," "Cry Me a River," and "Everything I've Got." Aron Doyle plays the trumpet or flugelhorn on tracks "We're Together," "Tout ce que veut Lola," "What is This Thing?" to complete the musical tableau.

On "Let Me Love You" Lane lays it all on the line, as she interprets the lyrics to this song of love with her soulful rich voice. Instantly the listener will realize her voice has a wide range and is full in body and character, but most importantly, swings. Driscoll and Bibace add a magical touch to an already elegant tune with their musical solos.

With "We're Together," the track radiates with and exuberant sexuality in a clever way that finds Lane navigating the melody and flawlessly conveying the rhythmic nuances in both the Latin and swing sections of the form. Doyle's solo is a study in a perfect marriage of excitement and clear musical phrases.

On "Everything I've Got Belongs to You" and "What is this Thing Called Love?" Lane also shows a side that more vocalists should explore and that is perfectly expressing a melody at medium-up tempos. Lane also effortlessly tells the story of each song with creative augmentations to the melodic line and a wide reaching vocal range. Bibace adds excellent guitar work to both before mentioned tracks and D' Amours tenor saxophone unfolds a fine solo on "Everything I've Got Belongs to You."

The rhythmic time keepers Masi and Laing heard throughout are unparalleled musicians at creating support and a solid foundation for both the soloist's and Lane to create in the highest musical manner. Lane's vocal quality, rhythmic clarity and range, adds much to this album. As mentioned, there is a paucity of genuine jazz singers and Lane is to be included in this limited group amongst the masses that call themselves jazz vocalists.

Let Me Love You should be in the true jazzophile's collection, it gets no better with this true vocal gem.
---
Brookfield Jazz Society: Chris Davis Jazztet 
---
Krannert Uncorked: Lara Driscoll Trio
---
---
Teal Creek Music: Larry Gray Review of Bossa Nuevo
---
News Gazette Studio Visit Interview with Melissa Merli (see below) and performance of Lara's original composition "Woven Dreams"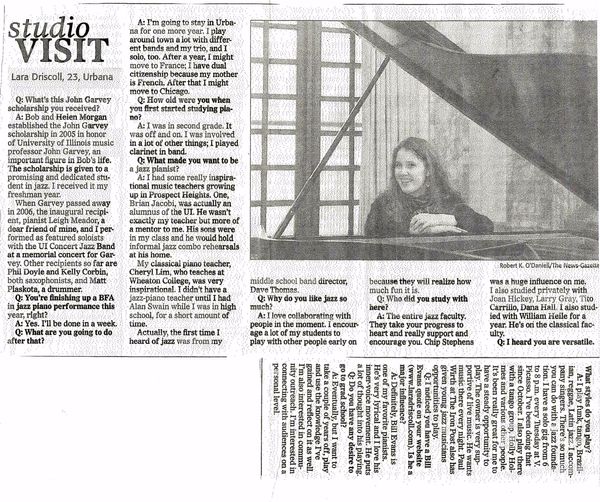 ---